2020 LOWER COPPER RIVER SONAR STATION FISH PASSAGE
The 2020 project has ended. The sonars were turned off on June 11th and the camp removed.
FISH PASSAGE SUMMARIES: 
2020 NOTES AND UPDATES:
May 10:  The sonar camp was set up at the Clear Martin site.  DOT has not plowed the highway, but we were able to deploy via the 27 mile channel, traveling north to meet the main channel — a 60 mile round trip.  We are troubleshooting some power issues with the sonar and the internet connection.
May 11:  The east bank sonar is operational as of noon, it is now recording every hour.  We are still troubleshooting the internet connection, but have a workaround for now.  We will begin posting counts when the technicians have caught up with the overnight recordings.  We cannot deploy the second sonar until we are able to deliver the floating platform to the site, which is not possible by the 27 mile channel.  CTC has plans to plow the road out to 36 mile, which should allow us to get the platform to the site.
May 13:  The second sonar on the floating sonar platform was towed into place and made operational as of 4PM.
May 27:  The camp has been moved to avoid rising waters and to better position the sonars.
June 2:  The floating sonar platform has been moved to a new location across from the camp to see if fish are passing there.
ABOUT THE SITE:
The camp is just below the confluence of the Clear Martin River and the Copper River.  There is a sonar on the bank at the camp site, and a second sonar on a floating platform is deployed in a second channel to the west.
View of the sonar camp and east bank sonar.
The floating sonar platform with the camp in the background.  The platform is deployed about a half mile from the camp and transmits its data by wireless link.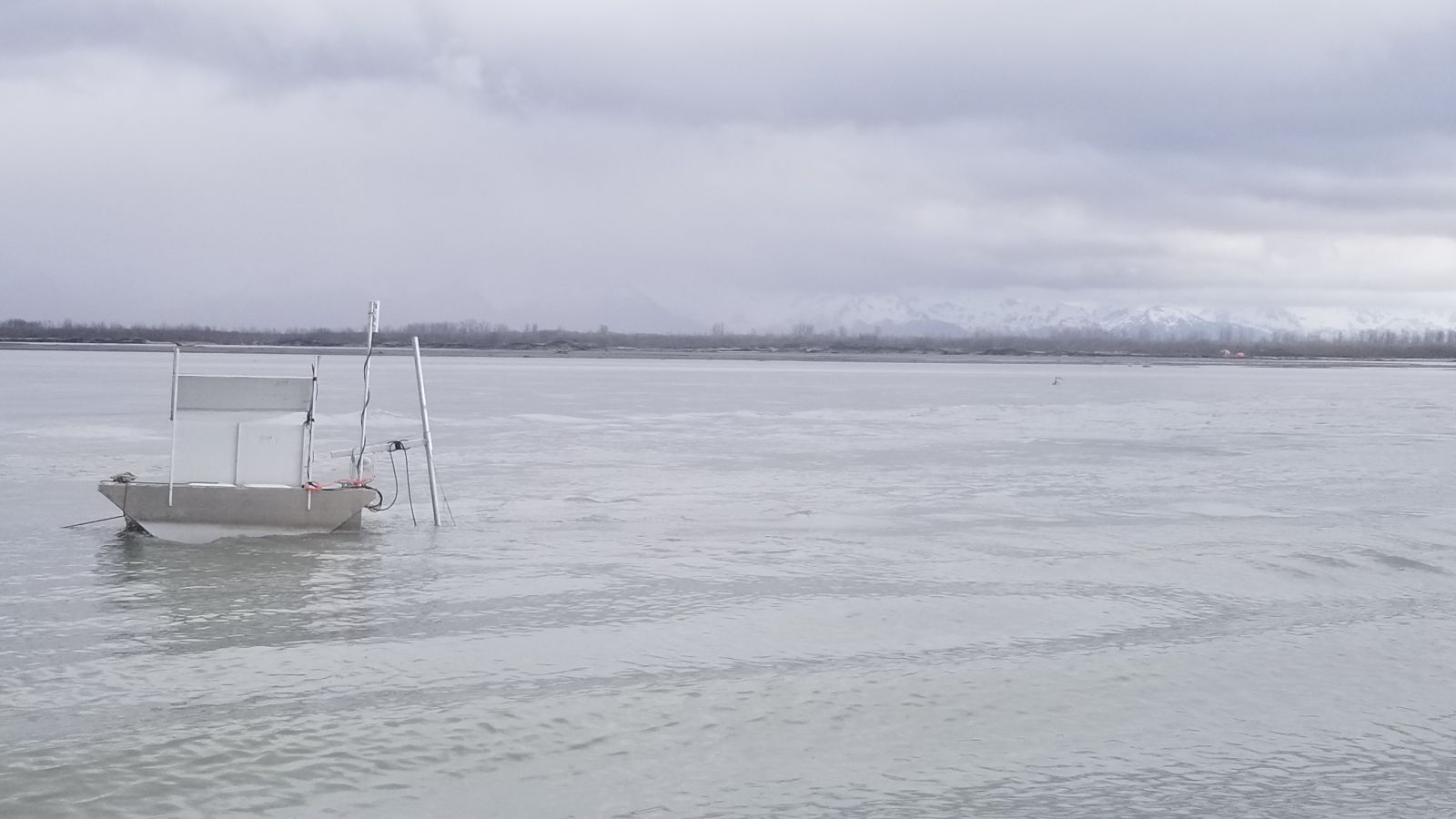 The project this year is funded by the Copper River/Prince William Sound Marketing Association. The sonars were previously purchased by NOAA Saltonstall-Kennedy.
Questions or comments?  Please contact Rob Campbell at: coppersonar@pwssc.org