2020 LOWER COPPER RIVER SONAR STATION FISH PASSAGE
Field work on the Lower Copper River Sonar Station Fish Passage will begin soon in spring 2020 – stay tuned for updates.
FISH PASSAGE SUMMARIES: 
Daily Counts
2019 NOTES AND UPDATES:
May 3:  The sonar camp was set up and the east bank sonar started recording at 1900.  The river was remarkably ice-free for this time of the year, water levels were low but navigable.  It is quiet in the lower delta, with only a handful of seals and gulls present.
May 4:  The second sonar, mounted on its floating platform was deployed to a second channel that has opened up to the southwest of the sonar camp and recording began at 1400.
May 5:  The technicians have been getting the camp squared away this morning ahead of the front moving through this afternoon.  They began catching up on counts in the afternood (zero fish passing so far) and they will be posted here as soon as they are available.
May 20:  Fish counts from the floating platform have been consistently low, and the platform has been moved back to the western side of the main channel, across from the camp.
June 11:  The sonars were turned off this morning and the camp removed.  The overnight counts will be posted as soon as possible.
ABOUT THE SITE:
The camp is just below the confluence of the Clear Martin River and the Copper River.  There is a sonar on the bank at the camp site, and a second sonar on a floating platform is deployed in a second channel to the west.
View of the sonar camp and east bank sonar.
The floating sonar platform with the camp in the background.  The platform is about a half mile from the camp and transmits its data by wireless link.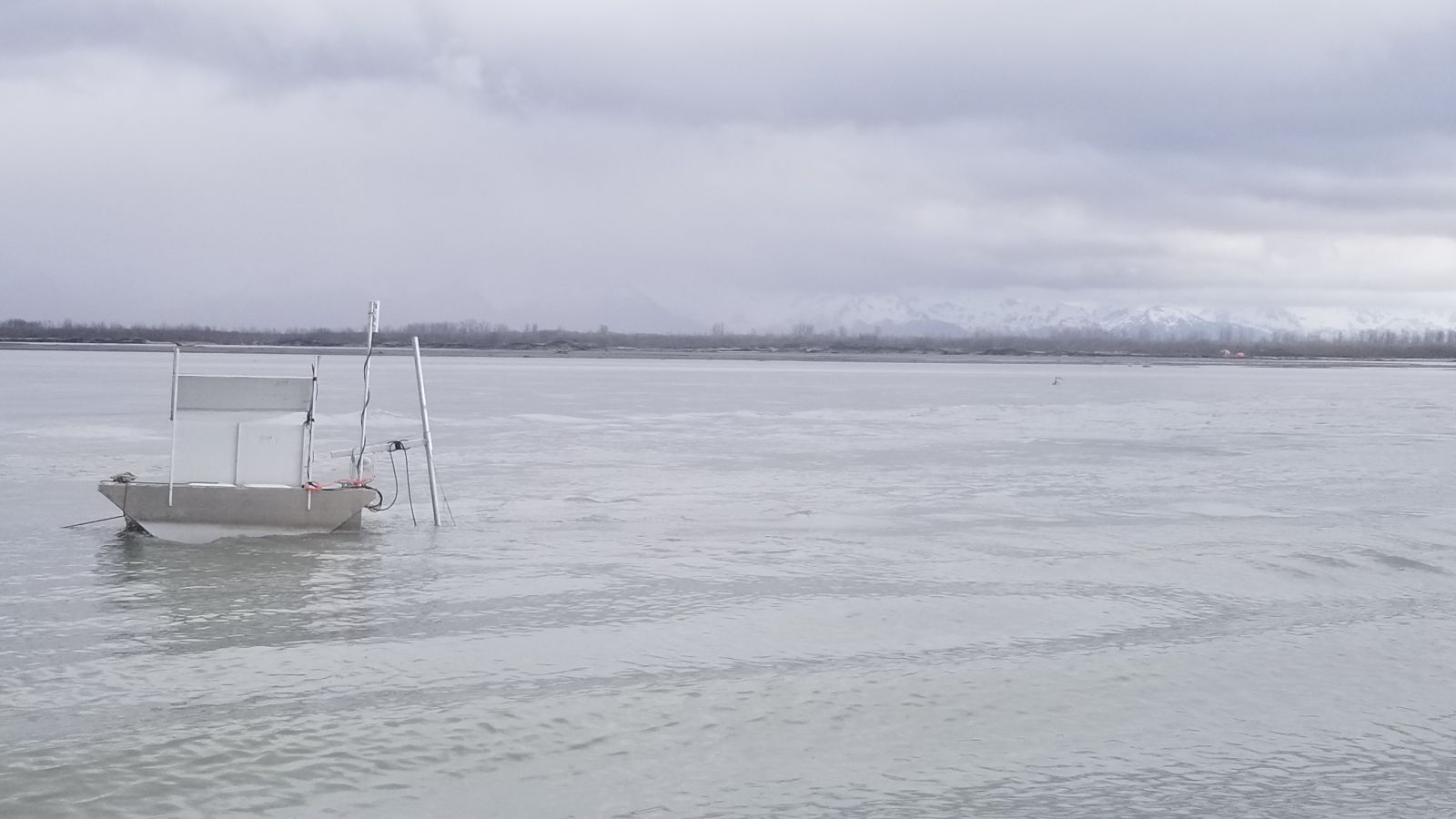 Questions or comments?  Please contact Rob Campbell at: coppersonar@pwssc.org