By Kinsey Justa, September 24, 2019
Last week, Prince William Sound Science Center staff hosted visitors from the Russian Far East. This group of six visitors included two staff from the Wild Salmon Center, fisheries biologists, conservation advocates, commercial fishermen, processors, and an accompanying interpreter. Their goal was to learn about the wild salmon industry in Alaska while visiting both Juneau and Cordova. The trip was sponsored by the Wild Salmon Center based in Portland, Oregon. The Wild Salmon Center is a non-profit committed to protecting wild salmon habitat and supporting sustainable fisheries throughout the Pacific Rim. The international scope of the WSC's mission includes input and work from several countries in the Northern Pacific including the United States, Russia, and Japan. 
Research Ecologist Pete Rand used to work for WSC and his work at the Science Center advances our mission and remains complementary to the Wild Salmon Center's interests.
Dr. Rand has also visited locations abroad in Japan and Russia to explore wild salmon ecology in these remote regions and consult on possible solutions to wild salmon habitat restoration and remediation. His familiarity with this international work encouraged him to reach out to the visiting group and welcome them to make a stop in Cordova in addition to time spent in Juneau. 
Wild salmon fisheries in the Russian Far East face slightly different issues than those of Alaska, however the exchange of knowledge from one system to another may present creative solutions for the future. On Sakhalin Island, the fishery struggles with enforcing regulations that deter illegal fishing while also battling proposals to increase extractive industries, such as offshore drilling, that could harm vital salmon habitat. In contrast to Alaska, where salmon fisheries are informed by fish escapement data in-river, Sakhalin Island management operates on a quota based system with gear types that include in-river beach seines and fish traps. While these methods of harvesting salmon are effective, energy efficient, and can be implemented sustainably, they have also been shown to be detrimental to wild salmon population health, prompting fish traps to be banned in Alaska since 1960. Larger problems faced by salmon conservationists and fishery professionals in the Russian Far East include corruption on a governmental level, lack of processing infrastructure, and issues of access and law enforcement in rural areas. 
While in Cordova the visiting exchange group met with independent fishermen, ADF&G and NVE fisheries biologists, and representatives from the processing industry. A day of the visit was entirely dedicated to informational talks and presentations of work done in the Prince William Sound bioregion, which included overviews of fishery management techniques, hatchery management, emerging issues, and research results. Presenters from the community of Cordova included Charlie Russel of Fish and Game, Matt Piche of the Native Village of Eyak, Casey Pape of the Prince William Sound Aquaculture Corporation, and Rich Wheeler, owner of a local seafood processing facility.
Several of the Russian visitors also took the opportunity to present their work. Dima Lisitsyn with Sakhalin Environment Watch offered a community lecture, as a part of PWSSC's Tuesday Night Talk series, about his work raising awareness of illegal fishing in the Russian Far East. Visiting scientist Albina Kanzeparova also presented on her work sampling on a research cruise in the Gulf of Alaska through the International Year of the Salmon (2019), an initiative jointly pursued by the North Pacific Anadromous Fish Commission and the North Atlantic Salmon Conservation Organization. She highlighted interesting results of the first ever winter monitoring trip which recorded more chum and coho salmon and less pink salmon than hypothesized. More can be learned about this cruise here.
Finally, the group was able to explore Cordova through tours of the Science Center, several fishing vessels, two different seafood processing facilities, and enjoyed a few outdoor hikes in the area.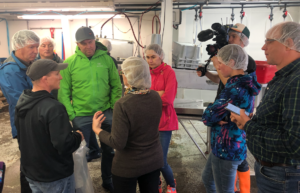 Overall the visitors seemed to enjoy their time in Cordova and were very interested in both the similarities and differences between the two wild salmon regions. Pete Rand hopes to continue to encourage this type of intercultural knowledge sharing in the Pacific Rim and plans to travel back to Russia in the future for further research inquiries and networking. He feels that the exchange is beneficial to the visitors because it presents new ideas and approaches. "Our fisheries management framework is very sound and effective here." He says of Cordova, "And anything that they learn about this system that emphasizes wild salmon escapement is something really valuable that they can take back with them."  
To learn more about the Wild Salmon Center's work in the Russian Far East visit their website here 
Interested in the presentation given by visiting Russian Biologists? Our Tuesday Night talk series is available to watch anytime on our youtube channel