ABOUT
The Time is Now for Major Climate Research & Innovation Centers
In the late 1960's, America declared "war" on cancer, and the National Cancer Act was signed in 1971. The legislation poured money into existing centers to scale them up (ex: the Mayo Clinic, Sloan-Kettering, Fred Hutchinson). These centers didn't cure cancer, but they made major advancements that help us better live with cancer and thrive. Climate change demands a similar approach. The time is now, and there is not a minute to waste. Supporting independent, place-based centers like ours will further catalyze breakthroughs and holds promise to improve lives, communities, and the environment.
Why us? We are home to the only place-based institute on Prince William Sound, which presents one of the world's best opportunities for climate research and the testing of new innovations at an important time. We've gathered data and built an understanding of what's happening in the world's richest waters for 30+ years, and we provide an opportunity to proactively respond to climate change with replicable solutions.
We do our work from our new 5-acre waterfront research campus in one of the last, best places. We challenge you to find another place with more within 100 miles: glaciers, 12 distinct ecosystems, a pristine rainforest the size of some East Coast states, and rivers full of world-famous Copper River salmon. We believe that research & innovation here is a rare opportunity to support something pure vs. something that's been lost. Our goals: Create a better-informed citizenry, advance scientific knowledge for resource managers and policy makers, and revitalize the public decision-making process to maintain resources, businesses, and communities.
Vision
The Prince William Sound Science Center envisions communities that maintain socioeconomic resilience among healthy ecosystems.
There are two outcomes inherent in our vision. The first is socio-economically resilient communities: This outcome requires the region to support the livelihoods of its citizens. The second outcome is healthy ecosystems: This outcome requires users of the region's ecosystems to steward renewable resources with consideration for natural cycles and systemic change.
Mission
Our mission is to advance community resilience and the understanding and sustainable use of ecosystems.
We are unbiased in our approach, and we approach all projects with the attitude that they can lead to positive impacts, sustainable use of resources, and a resilient region.
EXECUTIVE COMMITTEE
Dan Hull (2020-23)
Chair
Commercial Fisherman
Anchorage

Laura Meadors (2014-17, 2017-20, 2020-23)
1st Vice Chair
Alyeska Pipeline Service Co., Retired
Valdez

Katherine Dugan (2021-24)
2nd Vice Chair
Alyeska Pipeline Company
Valdez

Tommy Sheridan (2018-21, 2021-24)
Secretary
Fisheries Consultant
Cordova

Thea Thomas (2017-20, 2020-23)
Treasurer
Area E Drift Gillnetter
Cordova

Katrina Hoffman
President and CEO, Ex-officio
Prince William Sound Science Center
Cordova


BOARD MEMBERS EMERITUS
Chuck Meacham (2007-10, 2010-13, 2013-16)
President, Capital Consulting
Gig Harbor, Washington

Meera Kohler (1998-2008, 2011-14)
CEO, Retired
Alaska Village Electric Cooperative
Anchorage

ADDITIONAL BOARD MEMBERS
Craig Tillery (2017-20, 2020-23)
Deputy Attorney General, Retired
Alaska Department of Law
Anchorage

Robyn McGhee (2021-24)
ConocoPhillips Alaska
Anchorage

Betsi Oliver (2020-23)
Consultant
Entelechy Arts, LLC
Anchorage

Chris Rurik (2020-23)
Director
The Russell Family Foundation
Gig Harbor, Washington

Todd Telesz (2017-20, 2020-23)
CEO & GM
Basin Electric Power Coop
Bismarck, North Dakota

Peter Andersen (2021-24)
President, Chugach Commercial Holdings
Anchorage

Delta Sound Connections
Our annual natural history and science news publication dedicated to the ecosystems of Prince William Sound, the Copper River watershed, and northern Gulf of Alaska. Details and links to all editions can be found here.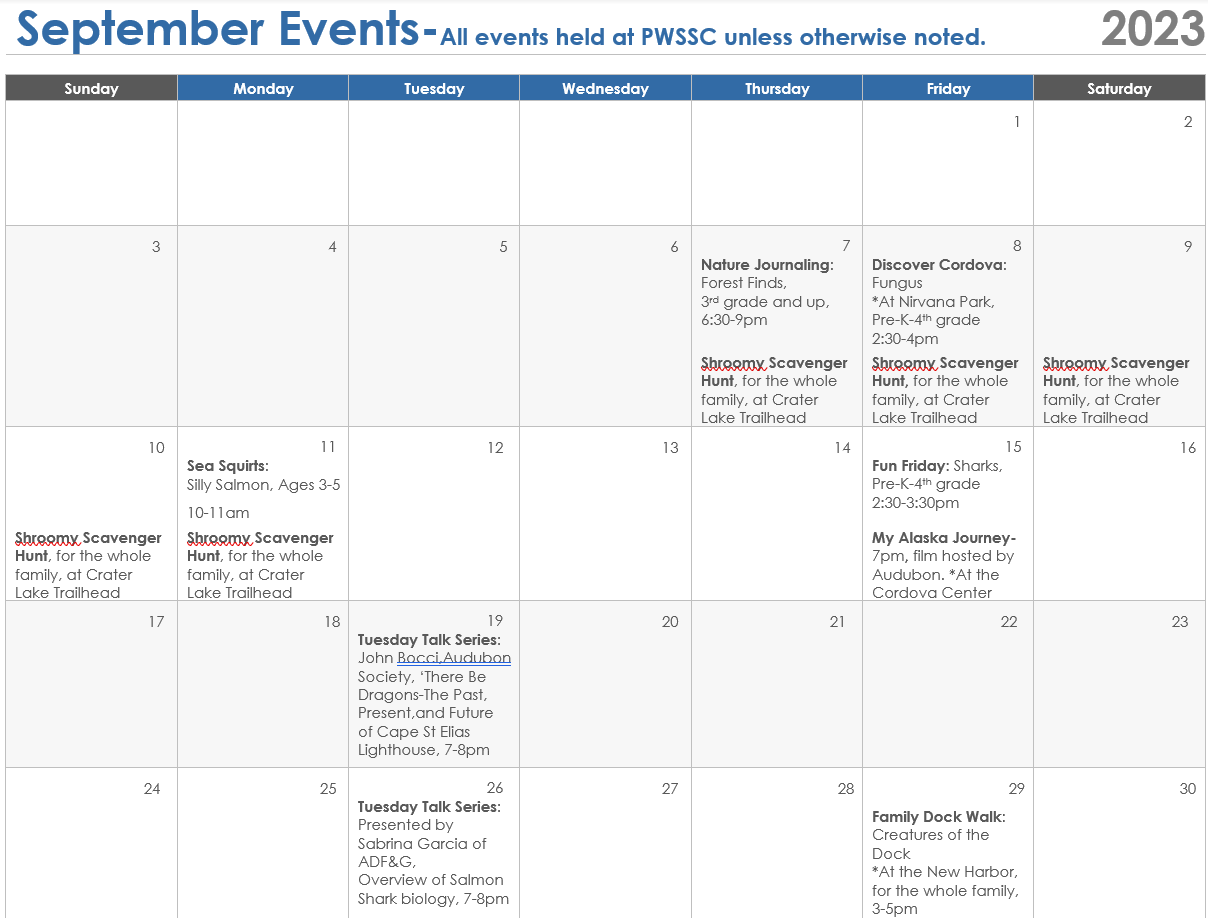 Financials
Here you'll find our most recent IRS form 990 and audited financial statement.
If you're in need for further financial statements or reports, please
contact us.